The path of puppet arts is mainly rooted in the Ambalangoda area located in the Southern Province in Sri Lanka.According to the historical evidence; the puppet legend can be traced back to Since the 1830s. Kandegoda Master Podisirina  : who lived in Ambalangoda, is said to have been an influential pioneer in puppetry, and he organized a group of ten puppetry artists in 1850. Moreover, historical evidence explored and accepted that he arranged stage decorations, theatrical instruments, and the music rightly for the staged a puppet show. History revealed that Master Podisirina's parents also ran a puppet group called 'Dakshina Lanka Puppets.'
However, the people who live in Balapitiya, Ambalangoda, in the southern province were gifted in art and the creative skill by birth. Prof. Ediriweera Sarachchandra has pointed out in his research that puppetry is an art that is inspired by the demise of the art of Nadagam, was enhanced and developed in 1952 by five groups of puppet parties groups cantered in Ambalangoda.
Kandegoda Master Podisirina is the son of Mrs. K. Disanchina and  Mr.G. Pulliyawas, and he is the founder and pioneer of string puppetry in Ambalangoda. At that time, some puppets creators and makers were involved with puppetry as a hobby in Ambalangoda, Kandegoda, and Paragahathota.
Evidence proves master Podisirina collaborate all puppetry artists live in those different places as a one puppet dram group. According to the accepted historical evidence, his father and grandfather were also puppetry artists.  Mr.James and Mr.Daniel are the two sons of master Podisirina.
Once Master Podisirina has presented a puppet show at the Bagatelle Walawwa for Prince of Wales that arrived in Sri Lanka in the late 19th century (the 1870s).  It was an Ehelepola drama, and the prince was entertained by that so much. Therefore he gifted Rs. 500 / = and a gold medal to master Podisirina. This is considered as the first reward for puppetry as well as the first gold medal.
Pioneer of Sri Lankan traditional dramatic puppet art, Maestro "Ganwari Podisirina"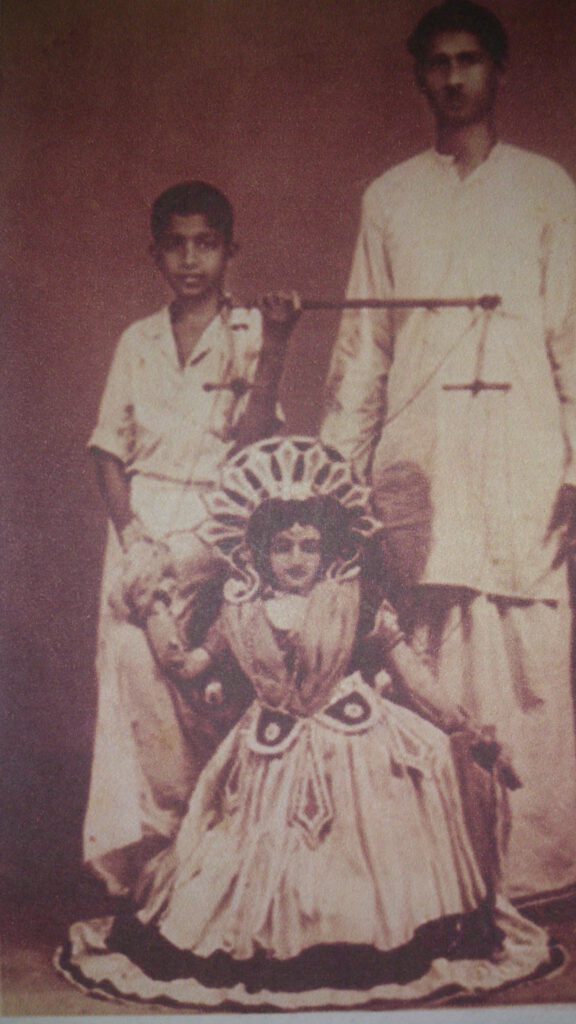 Grate puppeteer "Ganwari Jemis" and one of his sons
In this way, analysis in the generational, historical information of puppet art, Mr.Daniel and Mr. Manis from Bogahawatte, Mr. Odiris from  Kapuela-Kanda, Ampe Mr. Charles, Sivaguru Dr. Sarneris, Mr.James from Jambuwatte and Mr.James from Himbutugoda can be identified as contemporaries puppet artist of master  Podisirina.
After the valuable service for Sri Lankan puppetry from Master Podisirina, his two sons Mr. Daniel and Mr.James, become the pioneers of puppet arts. Mr. Lavneris was a forerunner of another current generation of puppetry, and he is a contemporary puppetry artist of Mr. Daniel and Mr.James.
In the present situation, master Podisirina's descendants are currently engaging work hard to develop puppetry in Ambalangoda with several puppet groups. such as puppetry artist  Daniel's son Mr.Martin Sepala (not alive) named as a 'Sigiri,' puppetry artist  James' sons Mr.G. Freddie (not live), and Mr.G. Wijesiri  Named as 'Gamini.' , Mr. G. Premin by named "Saranga, "puppetry artist G. Lavneris sons Mr. Nalinton named 'Anura' and Mr. G. Vipula runs puppet groups called 'Aruna.' Also, puppet artist Mr.  G.Premeen's son, Mr.G.J. Indika Gamini, and puppet artist Mr. G. Wijesiri's son Mr.G. Supun Gamini is currently working as puppet artists for the development of puppetry.
Besides, there are some puppet groups run by puppet artist masters who didn't learn this art from their generations. Mr.Charles, Mr. L.P. Laksiri, and Mr. G. Nimal can be identified as that kind of artist, and all of them also are the followers of Master Podisirina. Additionally, string puppet groups can be seen in Butthala, Matara, Yakkala, Panadura, Kegalle, Kurunegala, and Matale. Mr.S. Dharmasiri (not alive) also the original artist who is rooted in Ambalangoda and a descendant of Master Podisirina, but he is a Muppet artist practice in muppetry, which is different from the puppet tradition of master Podisirina.
We can clearly say that string puppets and other types of puppets (muppets), are scattered all over Sri Lanka, like beautiful art that roots seed from Ambalangoda, the Balapitiya area, and these valuable string puppetries belong to the one generation to another generation.
Especially, Puppet groups outside Ambalangoda are also interconnected to the Ambalangoda as relatives due to marriages or several migration factors. Meanwhile, Mr.James and Mr. Daniel Vaughns's contemporaries Mr.Jayneris later sold their puppets.  As a result of that, now Yakkala  Mr.Gomis established a puppetry group called Jayanthi Puppets.
We can clearly say that string puppets and other types of puppets (muppets), are scattered all over Sri Lanka, like beautiful art that roots seed from Ambalangoda, the Balapitiya area, and these valuable string puppetries belong to the one generation to another generation.
When asked about the father-land of string puppetry, it is recognized without hesitation as an art specific to Ambalangoda. However, according to modern administrative restrictions puppetry originated in Balapitiya, not in Ambalangoda; even though the name 'Puppet' recalls the name 'Ambalangoda' to Sri Lankans.
This is due to the fact that in the past Ambalangoda and Balapitiya have been one region while today's administrative boundaries are complex. Accordingly, the district of Galle in the Southern Province, Balapitiya, Wathugedara, Paragahatota and Kandegoda in the region of Same Pradeshiya Sabha, as well as Bogahawatta villages have exclusive rights to puppetry art.
Accordingly the descriptions given about Balapitiya and not Ambalangoda are relevant when describing the area. This is because the birth of string puppetry is believed to have happened, and even today the traditional puppet masters remain in the area of Balapitiya Pradeshiya Sabha and not in the area of Ambalangoda Municipal Council.
When considering String puppetry's historical situation, which was gradually started in the middle of the nineteenth century (AD), reviewed it was a flourish past. According to the news reports published in the Colombo Chronicle newspaper in 1932, March 07, can get some understand of the puppet art in that time period. It also reported a puppet drama show presented in a Walawwa (feudal/colonial manor house in Sri Lanka of a native headman.) named Bagatelle Walawwa in Colombo, when the duke of Edinborough arrived in Sri Lanka in 1870. After that event, puppet art won the attention of Sri Lankans and began to the flourish of the puppet arts.
In 1922, which was the early part of the twentieth century (AD), marks a golden age of puppet arts. On the occasion of the visit of the Crown Prince of Wales to Sri Lanka, Master Podisirina got an opportunity to present a puppetry show at Victoriya park (Viharamahadevi park) in Colombo. Prince of Wales was entertained from that puppet show, which presented "Ehelepola Drama" and gifted Rs.500 / = and a gold medal to Master Podisirina.
Later, puppet shows were presented on the first and second anniversary of Sri Lanka's independence. As per that puppet artist Mr, James and his team presented a puppet show at a ceremony presided over by the first Prime Minister of Sri  Lanka "Mr. D. S. Senanayake " and Governor " Henry Moore"' and entertained with this, Governor was awarded two gold and silver medals.
Unlike the present, puppet shows were held for special occasions in that period. Presented puppet shows for the weddings of the top elite are examples of that. Apart from that, even during the Kotte, Kelaniya temples, and at the Kandy Dalada Perahera season, puppet shows had enormous invitations. According to that, during that time from the late 18th century to the middle of the 19th century, it is clear that puppetry passed a golden age.
Master Gunasinghe Charles has been a member of master G.James leading puppet troupe.  He especially contributed even to the famous stage drama creations such as "Sinhabahu" and "Maname" by Professor Ediriweera Sarachchandra. Puppetry has also contributed to the art of filmmaking in Sri Lanka. Especially in the "Kawata Andare"  film and "Rekava," film also created with included scenes that presented a puppet show.
As per that, during eras of puppetry in  Master  Podisirina and Master James , Puppet artists practiced and engaged puppetry as their profession. They have also been invited to present puppet shows throughout the year (Not daily).
The Duke of the Edinborough and prince of the wales, a chekoslowakian  Specialist" Jana Hawlicova," who came to this country in 1962, also wondered about the puppet arts in Sri Lanka.  After that, "Eva Hawlicova," the lady who came here to train puppetry, was also wondered about the puppetry in Sri Lanka. This historical evidence demonstrates the uniqueness of the Sri Lankan puppet arts.Many factors contributed to this progress and development. Especially with the popularity of "Nuthi" in Sri Lanka, the Art of "Nadgam Drama" moved to the coastal areas due to giving space to Nurti art in Colombo.  With the degeneration of the Art of "Nadgam Drama" in the coastal areas, the puppetry inspired by it and flourished.
Unlike in the art of "Nadgam Drama," the ability to present a show with a small number of artists was a reason for the expansion of puppet arts. Because it was benefitted to the organizers with more profitably and conveniently. Moreover, the ability to perform live is also one of the reasons why puppetry is so popular. Examples include the scene of the killing of children in the Ehelepola drama and Chanthapani drama. By watching the Kolam drama and  Nadagam dramas, the dissatisfied audiences also get new experiences, enjoyed, and entertained by watching the puppet shows. Moreover, this art has become very popular due to the puppet show, which is often held in temples or on many other occasions for the purpose of getting donations.
Unlike in the past, one will rarely see a puppet shows today. Most are limited to Poya days like Vesak, Poson, and Esala. Craftsmen point out that today's revenue from a puppet show is significantly smaller than it was then.
In the past, artists were a puppet profession, and there were so many performances from village to village all over Sri Lanka that they could not get any rest. But today puppet artists have no chance of pursuing their art professionally. This is because of the lack of puppet shows.
For a very small sum of money, several people want to assess the worth of a puppet show, and in some situations the money spent on puppet shows cannot be covered up. For such reasons, the puppet artist faces an immense economic risk, and is now moving away from puppetry to other careers.
Accordingly, the modern artist is thus getting tired of art and only a few people remain in this art and have many obligations to maintain it.
The Ministry of Cultural Affairs launched a 'Puppet Workshop' in December 1983, and under several mentors, including Professor Rudy Corens, the formation of the 'Sri Lanka Puppet Artists' Association' was also viewed as an effort to encourage puppetry.
However, Sri Lankan string puppetry, which is of a nature that can compete with other arts around the world but it is currently operating in Sri Lanka at an unsatisfactory stage. So collaborating with puppet artists on a comprehensive program to encourage this craft, which is a national heritage, would be most fitting.